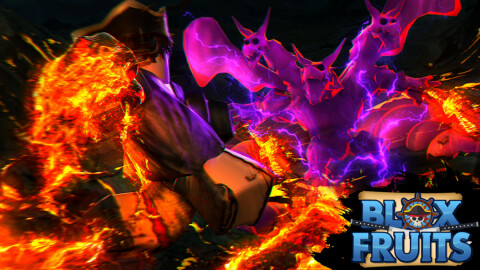 [🐯🍩UPDATE] Blox Fruits
Blox Fruit Skays Hub [Early Beta]
---
13,083
Total Views
4,943
Total Downloads
Description:
/* AutoFarm *\
AutoFarm Level
AutoFarm Selected Quest
AutoFarm Multi Quest
Bring Mobs - (Normal, Extra)
Super Attack - (Over Powered)
Auto Haki
Toggle Auto Attack - (Not needed for Autofarm)
Auto Skils - (Z, X, C, V)
Recreated Observation Haki
/* Raids *\
Auto Start Raid - (Comming Soon!)
Auto Next Island
Kill Aura
Auto Awakener
TP Dungeon
TP Awakening Room
/* Misc *\
Auto Buy Legendary Sword
Auto Buy Enchancement...read more
Walk on Water
Inf Energy
Inf Jump
Remove Lava
WalkSpeed
JumpPower
Change Field Of View
Inf Soru
Noclip
Join Pirates Team
Join Marines Team
Enter 1st Sea - (goes for 2nd and 3rd)
Check Ectoplasm
Open Devil Shop
Open Inventory
Open Fruit Inventory
/* Fruits *\
Fruit Sniper - (Auto Buys Selected Fruit)
Bring Fruits
Auto Store Fruit
Auto Claim Daily Fruit
/* Shop *\
-- Abilities --
Sky Jump
Buso Haki
Soru
-- Fighting Style --
Black Leg
Electro
Fishman Karate
Dragon Claw
Superhuman
Death Step
Sharkman Karate
-- Sword Equipment --
Buy All Swords
/* Teleport *\
Teleport to Selected Area
Stop Tween
/* Players - ESP *\
Farm Selected Player
Spectate Player - (Selected Player)
-- ESP --
Tracers ESP
Name ESP
Boxes ESP
Chest ESP
Name V2 ESP - (Beta)
Devil Fruit ESP
Flower ESP
/* Points *\
Melee
Defense
Sword
Gun
Devil Fruit
/* Credits *\
Head-Developers: Mana#9724 & GramxPersons#0001
Publisher: Skays#9228
Discord Server: https://discord.gg/VEEn3MvDnb

Join our Discord here
---
---
Similiar Scripts
Hungry for more? Check out these Roblox Scripts!
---